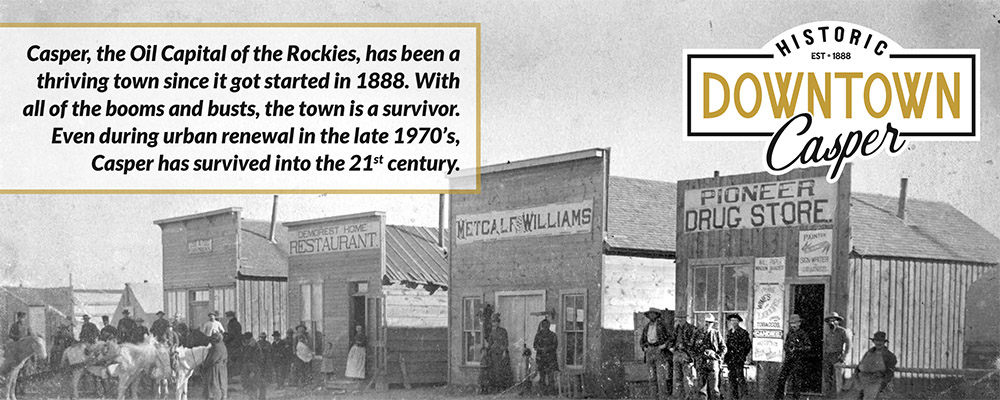 ---
A Brief History of Casper
Originally named Caspar, after Lt. Caspar Collins, who was in charge of Ft. Caspar in 1864. There was a misprint in the local newspaper and that was how Caspar changed to Casper.
The town of Casper became inhabited in June 1888, with John Merritt and C.W. Eads camping on the banks of the Platte River down by the Sandbar. As others started to arrive with talk of the railroad coming, the townsite began and buildings were erected at the intersection of McKinley and A.
For the last 129 years, Casper, starting as a railroad and ranch town which was rather wild in its heyday, has been a boom and bust town.
Women were not allowed to walk on the West side of Center between 2nd and Midwest, as this was where all of the saloons were located. Also on the Northwest Corner of 2nd and Center, at the Stockmen's National Bank (now Townsend Building), employees of the bank would sleep behind bales of straw as the cowboys would like to shoot up the town, and they didn't want to get hit by a stray bullet.
As the discovery of oil was in full swing in the Salt Creek Oil Fields 40 miles North of Casper, we became the Oil Capital of Wyoming. 20 mule teams' wagons were able to transport the oil to Casper until the lines were laid.
During World War I, Casper developed another wild side when the Sandbar became world famous for its bootlegging, drug dealing and prostitution. Many of the local law enforcement did what they could, however most infractions were only held overnight. Therefore, Casper was once again in its heyday of wildness. This lasted until after World War II, when Casper had a military airbase at the airport West of town.
The late 1970's brought urban renewal to our fair town, and by that time we had already lost buildings and were renovating the whole Sandbar area.
Casper developed a Historic Preservation Commission in 1988 to help preserve our town's history. After almost three years of resurveying our local properties, we were able to be listed as a National Downtown Historic District on October 17, 2016.
Even with the oil booms and busts, we have been able to maintain historical integrity as we still grow by leaps and bounds.
History courtesy of:
Connie F. Thompson
Chair | Casper Historic Preservation Commission
(307) 267-2790
renegade6224@gmail.com
---
Casper's Historical Timeline
1869 – 1908

1909 – 1969

1970 – Present
June 15th, 1869 – Wyoming becomes a territory.
June, 1888 – John Merritt and C.W. Eads camped along North Platte River by the Sandbar.
June 8th, 1888 – First buildings were erected at the intersection of McKinley and A Streets.
June 15th, 1888 – Railway comes through Casper, there was a population of 100 at the time.
November, 1888 – After town was platted, Downtown buildings moved to the West.
September 30th, 1889 – Ratified United States Constitution to become a state.
April 8th, 1890 – Casper becomes county seat of Natrona, won because Bessemer Bend had padded the votes.
July 10th, 1890 – Wyoming admitted to the Union.
October 11th, 1890 – F.E. Warren is elected first Governor of Wyoming.
June 12th, 1900 – First Electric Street Lights are installed in Downtown Casper.
March 22nd, 1902 – First Telephone Lines are wired in Casper.
1903 – First Library is constructed on East side of Center Street.
May 1903 – First Sewer System is installed in Casper.
September 30th, 1906 – Natrona County Library is constructed in it's present location.
1908 – Post Office gets a new home on corner of Second and Wolcott.
1908 – New Courthouse is constructed on North Center Street, where the railroad bridge underpass is currently located.
Summer 1908 – First Car Garage and Repair Shop are constructed in Casper.

December 4th, 1909 – Hospital is constructed in it's present location.
1910 – First Moving Pictures come to Casper.
1916 – First Telegraph is sent to Casper.
September 29th, 1919 – First Airplane flies through Casper.
Early 1920's – Oil companies are big contributors to the community.
Early 1920's – Casper is growing, with banks and commerce to bring the city into the 20th century.
Early 1920's – Yellowstone Highway becomes the pathway to the park, with the development of repair shops and all of the services needed to keep the automobiles operable.
October 21st, 1921 – Casper has now become the oil capital of the world, shipping more oil by rail than any other city in the world.
January, 1923 – Casper motor bus company is developed.
Late 1920's – Better buildings, traffic control and youngsters growing into citizens that would someday help make decisions to keep Casper an integral part of the building of the west.
Early 1930's – Community entertainment and community spirit in the midst of adversity have kept Casper a town that anyone would be proud to call home and raise a family.
1940's – Casper had the opportunity to have an army air base that became a training stage for pilots and crews of the B-24 Liberator airplanes.
1940's – This period in time definitely gave Casper the title of "Oil Capital of the Rockies".
1940's – World War I, the Great Depression and World War II only strengthen the survival of the people who live in Casper.
1950's – Progress in developing the area around casper only makes life easier to withstand the harsh weather that Wyoming musters up on a moments notice.
Late 1960's – Casper is growing again with new subdivisions being added to the East, more oil exploration and the renovating or removal of buildings to make way for the new Casper.

Late 1970's – Urban renewal starts to take place in Downtown Casper, and by that time we had already lost buildings and were renovating the whole Sandbar area.
1988 – The urban renewal of the Sandbar, the loss of buildings and the renovating of other buildings gave way to establish a Historic Preservation Commission to help preserve the town's history.
October 17, 2016 – After almost three years of resurveying our local properties, Downtown Casper was listed as a National Downtown Historic District.
2017 – Casper is and always has been rich in history and a testament to the development of the West. Surviving 129 years and still developing as we embark on the 21st century, Casper is still a great place to call home with all of the western hospitality anyone could ask for.
---
Historic Downtown Casper Photo Gallery